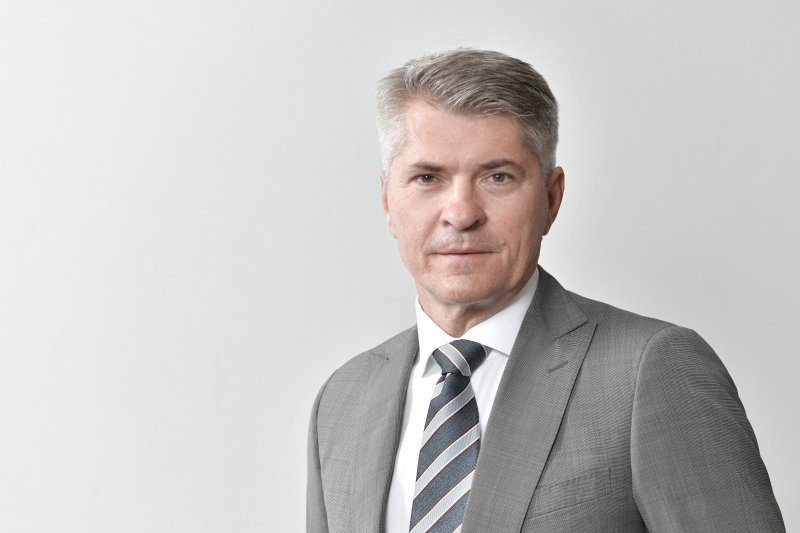 4iG Group, the Hungarian investor aims to give Albania strategic importance and make it the main center of its international operations. In an interview for Monitor Magazine, Robert Budafoki, vice president of 4iG International, says that the Hungarian group is planning further expansion in the Western Balkans. According to him, 4iG aims to lead the entire spectrum of ICT services in Albania, based on the company's long experience in the IT sector. Budafoki believes technology is becoming an increasingly important instrument for reducing costs, so faster expansion of digitalization can help combat high rates of inflation.
What are the challenges of merging two large companies, like ALBtelecom and ONE, and what are the main results you expect from this merger?
The synergy between ALBtelecom and One will provide the market with the best combination of the best fixed network and the mobile network. This merging of opportunities will create a fantastic platform for convergent products, where customers can find everything they want in one store, whether it's fixed or mobile products. Our ultimate goal is to add significant innovative solutions and create new services such as rich content, entertainment/gaming, micro-finance, insurance, broadcasting, etc. We know this will only be achieved by creating a new, highly competitive merged company that will address the challenges and demands of today's telecommunications markets with new products, better meeting business and consumer demands. The merged company will offer a full portfolio, 4P provider that will lead Albania's digitalization path and be an asset to boost high quality B2B and B2C services.
The merger between ONE and ALBtelecom will, among other things, reduce the number of mobile operators in Albania to two from the current three. What impact do you expect from this reduction in the number of operators on the mobile services market?
We see the fact that there will only be two players left in the market as a responsibility on our part. Our end goal is to serve consumers with the highest quality products, a more diverse product portfolio, and richer offerings for their needs in both the business and consumer segments. We want to bring our IT solutions and telecommunications services to the Western Balkan countries and be part of an exciting future for technology in the region. This is why we are considering investing in Albania, a long-term strategic goal, which will contribute to the country's digital development and transformation. We firmly believe that our presence in Albania will help transform the telecommunications industry and technology for the better.
The economy is facing the highest levels of inflation in over 20 years. What impact can this situation have on the electronic communications market?
International economic and geopolitical situations around the world have increased cost pressure on technology and energy resources and our sector is strongly impacted by these changes. So far, we have managed to control costs and not transfer any effects to the customer, as has happened in other important sectors. The second effect of this crisis is that the global trend of cost reduction will push for a higher rate of digitalization, which itself has a strong disinflationary effect. This means that a quick digitization can really help combat rapidly rising prices.
In your opinion, how important is the convergence between mobile and fixed services for the competitiveness of electronic communications operators? What benefits will ONE derive from owning a fixed network infrastructure after its merger with ALBtelecom?
We believe that connectivity in all ways, mobile, fixed or wireless is a fundamental service that improves lives and facilitates businesses and we are convinced that by bringing all possible advantages on quality and single point of service without hassle, the benefits will be felt and embraced. by all our customers. More than ONE, among those who will benefit from the bringing together of these two services, it is the customers because they will benefit from more convenient and better packages. As a nationwide 4P supplier, we will be able to satisfy a wide range of demands in telecommunications, as well as in IT and we are currently focusing on designing products that would give families and SMEs the flexibility to combine what they need or get "all in one" packages.
It is expected that in the coming years Albania will also switch to the 5G generation of mobile communications. What are the most fundamental changes that 5G technology could bring to operators and mobile service users?
5G will soon become a reality in Albania and our investments in 5G will result in a whole range of services and products that will be available through this technology. We are confident that our 5G products will enable and incentivize the private and public sectors to transition to next-generation services. The new merged company, having the most powerful fixed network, inherited from ALBtelecom, will be the strongest advantage of the market which will differentiate us. Thanks to the strong IT background of our parent company, 4iG, we will soon be able to offer services that underpin digitalization in Albania and introduce services that were unavailable to a wide range of customers. Our goal is to build a business that will take Albania into the digital future, and through 5G we can achieve our ambitions of becoming the leading operator of Infocommunications Services (ICT), smart solutions, etc.
4iG Group's experience mainly concerns IT services. Do you think that entering the electronic communications market will help the Group develop its business in Albania in other ICT-related services?
Our goal is to become a major player in the ICT sector in Albania – in alignment with the global megatrend of telco-IT convergence. The 4iG group leading the telco-IT convergence act will bring an exceptional competitive advantage to our business customers over other enterprises, along with more efficient performance, increased security and better operational security. It is a natural trend and an added value that the merged telecommunications company will also offer ICT products which are the extension of connectivity. The experience and success of 4iG will be an asset for the market and a differentiator that will help the Albanian public and private sectors to have access to the projects successfully implemented by the Group. We have plans for future expansions in the Albanian ICT market with services that meet market needs, while offering products that drive innovative solutions in the country and region.
Your group is already a leading player in the electronic communications markets in Albania and Montenegro. Do you see investment opportunities in the near future in other countries in the Western Balkan region?
The good news is that we are going to make Albania the main hub for 4iG International. This decision by 4iG investors speaks for itself about the strategic importance of Albania in the region. And yes, there are plans for expansion in the Western Balkans. We want to create a group with a unified organizational and management structure, able to operate under one brand in the Hungarian and international markets. The international 4iG hub in Tirana will be a center of excellence for the most innovative solutions, for the creation of synergies in the region in the field of information communications. And we are very happy to have chosen Albania as our center in the region.
Interview for the magazine "Monitor"