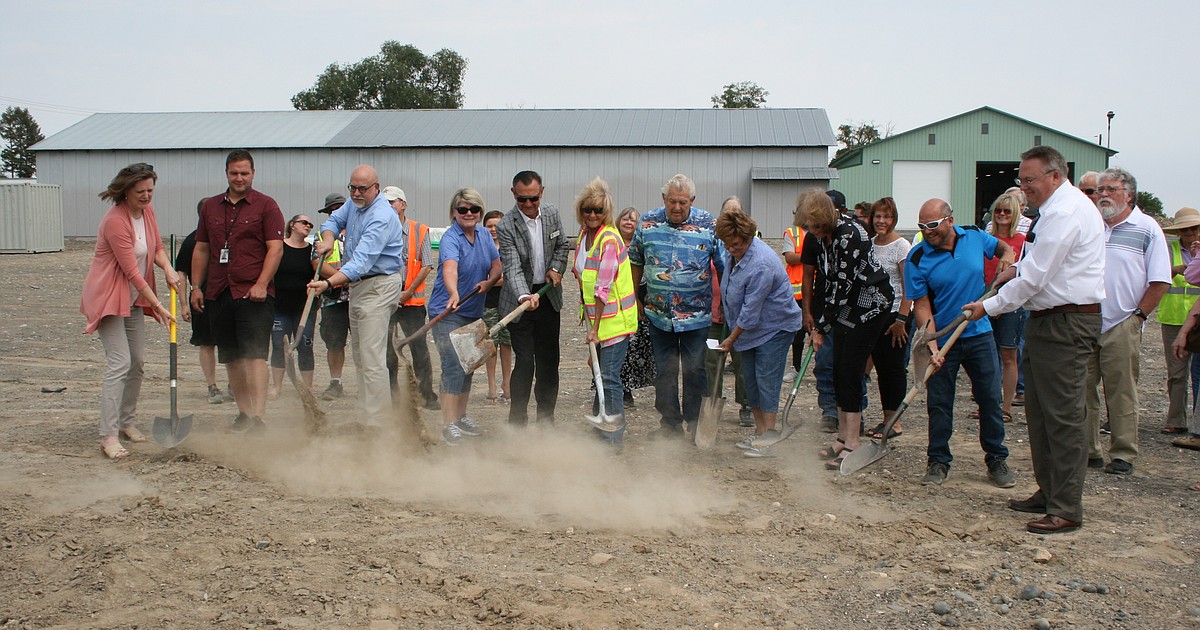 Digging in: Officials inaugurate new Moses Lake food bank
LAKE MOSES – Dirt flew in and there were smiles all around at the opening ceremony for the new Moses Lake food bank on Monday afternoon.
Peny Archer, director of Community Services at Moses Lake, which runs the food bank, compared it to a whole list of milestones in life, like buying that first home.
"My cheeks are actually starting to ache from smiling today," Archer said.
Food bank operators and the organization's board of directors have been fundraising for the project for the past seven years.
The land for the new location, at the intersection of Grape Drive and State Route 17, was donated by Chris and Mick Hansen in 2014. The land was given to a trust by Chris Hansen's father, Marc Marchand, who ordered it to be used for charitable purposes.
Marchand owned a construction business in Moses Lake and was well known throughout the Columbia Basin. The handles of the shovels used during the first shovelful on Monday were painted in the green Marchand used on his construction machinery.
"This is going to be so awesome," said Chris Hansen.
Contractor Scott Schurman said construction is expected to begin next week, pending approval of all permits. Construction is expected to take about a year.
The total cost of the project has been estimated to be around $ 2.9 million, but additional spending has brought the cost to around $ 3.9 million, Chris Hansen said.
Besides fundraising, the project received a big boost from State Senator Judy Warnick, R-Moses Lake, said Chris Hansen. The project received two allocations from the state investment budget as a result of Warnick's work, $ 2 million in 2019 and $ 1.9 million in 2021.
Warnick said the project has become very important to her. Agriculture is the backbone of the local economy and the hungry people here were just not good, he said.
Warnick said Archer's hard work was instrumental in achieving the goal.
"She just wouldn't give up," Warnick said.
The approximately 10,000 square foot building will house the food bank's regional distribution center as well as its local distribution area. The food is delivered to the Moses Lake food bank and then redistributed to 34 food banks in central Washington, Archer said.
Hansen also credited Lisa Whitney for her help in drafting grant applications for the project. Whitney said donations were still accepted on the food bank's website, www.mlfood.org.
"It's a great day," said Chris Hansen.
Cheryl Schweizer can be contacted by email at [email protected]