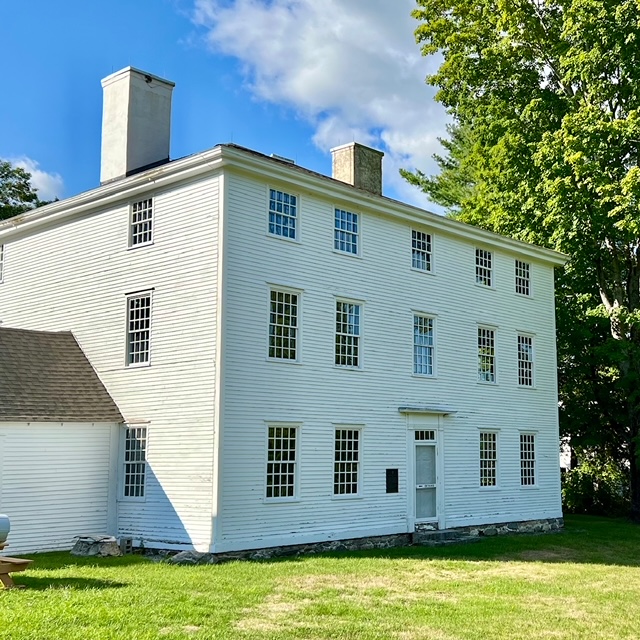 Grant launches campaign to paint Pownalborough Courthouse
The 1761 Pownalborough Courthouse is set to receive a fresh coat of exterior paint thanks in part to a grant awarded to the Lincoln County Historical Association (LCHA) of the Belvedere Historic Preservation and Energy Efficiency grant program through the Maine Community Foundation. To complement the prize, LCHA is launching a "Paint the Court House" campaign with the goal of raising $10,000 by spring 2023.
Pownalborough Courthouse still stands on its original site on the banks of the Kennebec River in Dresden. Listed on the National Register of Historic Places, the courthouse is an outstanding example of colonial New England architecture. Designed by Boston architect Gershom Flagg and built in 1761 by the owners of Kennebec for the newly created Lincoln County, the Pownalborough Courthouse has received notable visitors such as John Adams, Benedict Arnold, Robert Treat Paine, William Cushing , the Reverend Jacob Bailey and two future Massachusetts. governors: David Sewall and James Sullivan. Many trials have taken place here, including that of Judge North who featured in the Pulitzer Prize-winning book, The Midwife's Tale by Laurel Thatcher Ulrich, based on the diary of local resident Martha Ballard (1735-1812).
The courthouse also served as Dresden's tavern, place of worship, dancing school, and post office from 1807 to 1855. In addition to its vital role in the legal history of Lincoln County and Maine , the courthouse was a family home. From 1761 – when Captain Samuel Goodwin, original owner of Kennebec and captain of the guard at Fort Shirley, moved his family from the guardhouse to the courthouse – until 1954, his descendants used the building as their home. Today, the building is managed by the Lincoln County Historical Association, with tours offered to the public on a seasonal basis.
The exterior paint project will not only address chipped paint, but also properly repair or replace damaged clapboards and trim in a few areas of the building, and is expected to be completed in 2023. To support this campaign, please send tax-deductible contributions. at LCHA, PO Box 61, Wiscasset, ME 04578.
The Lincoln County Historical Association is a nonprofit organization that stewards the 1754 Chapman-Hall House in Damariscotta, the 1761 Pownalborough Courthouse in Dresden, and the 1811 Old Jail and Museum in Wiscasset. For more information, please visit www.lincolncountyhistory.org, Facebook at Lincoln County Historical Association (Maine) or Pownalborough Court House Museum.