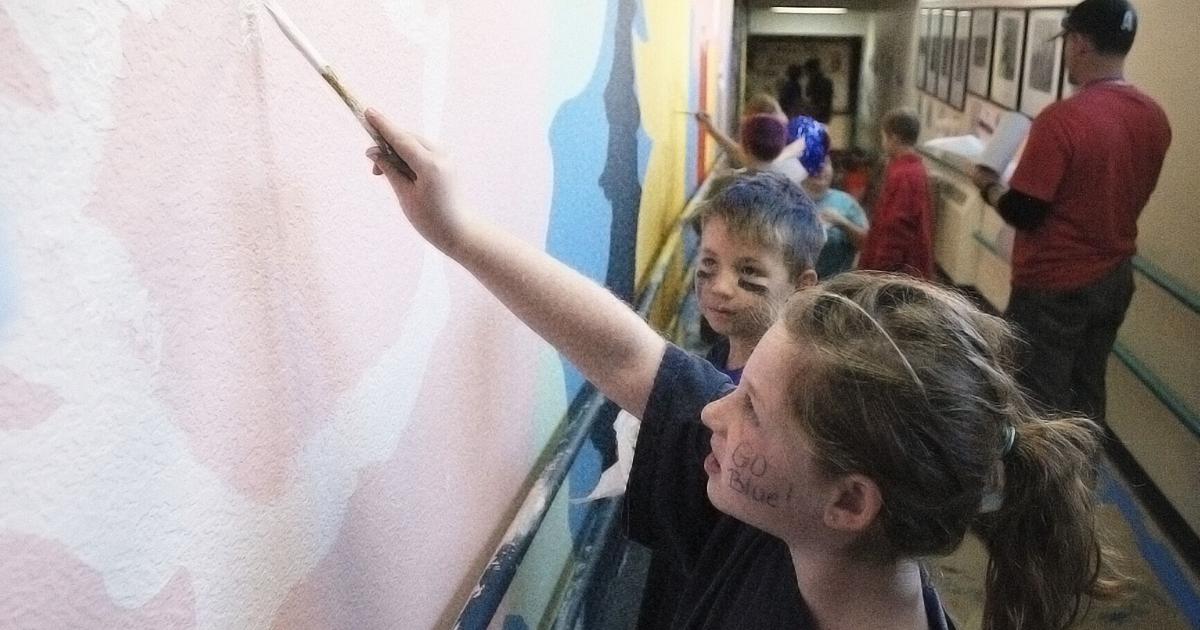 Primary students in Corvallis paint a mural in honor of a teacher
Elementary students paint a 90ft mural in the hallway of Corvallis Elementary School in honor of educator Jen Kozeliski, who died suddenly in December 2021.
CPS director Lisa Nagel said Bozeman artist Gabrielle Lewis came as artist-in-residence, Oct. 3-10.
"She works with all of our K-4 students," Nagel said. "She incorporates ideas from the Bitterroot Mountain Ranges, native Montana plants and animals, and flowers and landscapes inspired by former teacher Jen Kozeliski."
To fund the project, the school held a fundraising event last spring and received grants from the Corvallis Schools Foundation and Indian Education for All.
Lewis said the mural shows Kozeliski's artistry and style.
"She painted a lot of flowers and landscapes and this mural incorporates a lot of the flowers that she liked to paint in the colors that she liked," Lewis said. "They sent me some of his paintings and since I'm a different artist than Jen, I had to interpret them. It's a tribute to her, in my style and that of the students.
The mural spans the length and height of one wall along the 90-foot hallway and angled ramp to the library, and an older part of the building where Kozeliski taught for years.
The central section of the mural is divided into a grid designed for 12 images depicting either Montana or a painting by Kozeliski.
"A grizzly, a bison, a meadowlark, a ponderosa pine, or a barn, or a special flower," Lewis said. "This section will be the fun, 'learn more about Montana' and 'learn more about Jen' section. The rest will just be a fun and colorful wall.
Lewis said the painting efforts were divided into skill and attention span, with smaller children painting lower on the wall and older students painting the more detailed and higher parts.
"Third and fourth graders can stand on the ladders and stay in the lines better," she said. "The CE2 students are painting today, they are the best so far. They haven't reached the antonym consciousness of third graders and haven't the chaos of first graders, but they're only so high.
On Wednesday, energetic but serious sophomores filled the midsection of the wall and experienced the art as a busy, loud and colorful group effort. Some held cups full of paint while others held paper towels and stood ready to wipe up drips left by their painter buddy. Budding artists loaded their brushes with paint and filled in colorful sections outlined by Lewis.
The goal was to have the mural finished by Friday, and then Lewis plans to come early next week to add some details.
"It will go from being a community thing to being a real work of art," she said. "Pink [Wisenbach] has been my saving grace to help with the children.
Rose Wisenbach is a STEAM (science, technology, engineering, art, and math) teacher and project coordinator that includes young artists and the artist-in-residence.
"Gabrielle was amazing," Wisenbach said. "She works with our 450 students and she has never worked with such a large group of children before. She's doing great.
Jen Kozeliski taught and was part of the teaching team for the second year.
Mary Richardson, team member and second-grade educator, said the mural was a special tribute.
"It's exciting that the students have hands-on experience and can replicate some of Ms. Kozeliski's fine art," Richardson said. "I love that we incorporate that and they can experience it. I just see the joy in their eyes as they do the brush strokes.
She said the mural "brings life" to Kozeliski's artistic endeavors.
"It's a wonderful experience to be able to be part of something that's going to stay here for years to come," Richardson said.