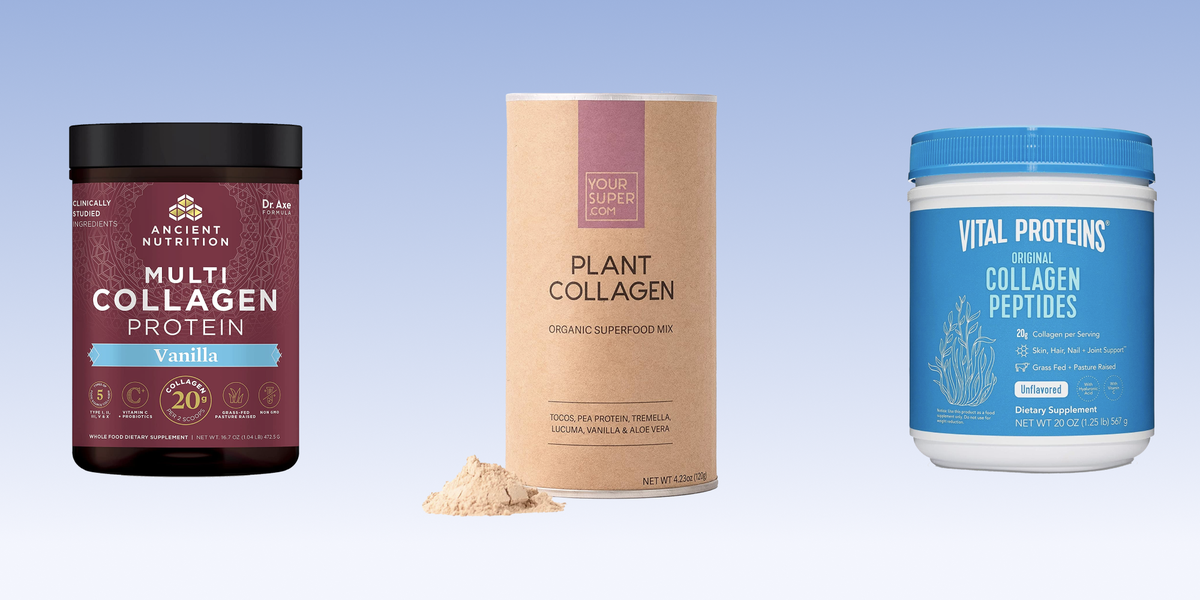 The Best Collagen Supplements for Healthy Hair, Skin, Nails and Joints
If you're looking to create healthier looking hair and skin, you've probably come across collagen supplements. These supplements are a popular (and trendy) way to get some of the key nutrients you need for healthy hair, nails, skin, and joints.
Collagen supplements, which usually come in powder form, can help add the nutrient to your diet, which your body made naturally but can be deficient in—especially as you get older. If you're looking to take a collagen supplement, it's only natural to wonder what exactly it is and what it can do for you. Nutritionists break it all down.
What is collagen?
Collagen is the most abundant protein in your body, according to the Harvard TH Chan School of Public Health. It has a fiber-like structure which is used to make connective tissue. This connective tissue is an important part of your strengthening your bones, skin, muscles, tendons and cartilage, and allowing them to stretch.
"Collagen is a type of protein that makes up the structure of everything from hair, skin, and nails to tendons, ligaments, and muscles," says nutritionist Scott Keatley, RD and co-owner of Keatley Medical Nutrition Therapy.
Collagen is found naturally in animal flesh like meat and fish, and certain plant foods contain materials for collagen production that can occur in your body, says Jessica Cording, RD, CDN, registered dietitian and health coach, and author of The Little Book of Game Changers. As you age, your body naturally makes less collagen.
What can collagen supplements do?
Collagen supplements "do exactly what they say — they supplement your diet to ensure you're getting all 28 types of collagen," says Keatley. If you're lacking in collagen, supplements "can improve your skin, prevent bone loss, ease joint pain, increase muscle mass, and protect your heart," says Keatley.
There is research to support this. "Studies show some benefits for skin elasticity and Hair, cutand nail health," says Cording.
What should people look for in a collagen supplement?
Although experts recommend trying to get your collagen from food sources such as meat and bone broth, they suggest looking for the following if you need or want to try a collagen supplement:
Hhydrolyzed proteins. "Being hydrolyzed means the collagen proteins are broken down into amino acids and are easier to absorb," Keatley explains.
Vitamin C. "Vitamin C is important because it's a major player in collagen synthesis in the body," says Keatley.
Different classes of collagen. These are divided into Type I, Type II, Type III, Type IV and Type V, Keatley explains.
Third-party testing. This ensures that an outside group has reviewed the product and made sure it does what it claims to do, Cording explains.
Does it matter how you take a collagen supplement?
You can take collagen in capsule form, but it's most commonly sold in powder form. "When I have a patient who wants to take collagen, I tend to recommend the powder because you get more protein in that form," says Cording. "Anecdotally, for the people I've worked with, it's more satiating and I've observed that people react better to it."
These are the best collagen supplements out there.
1
Best Collagen Supplement Overall
Vital Proteins Collagen Peptide Powder
Vital Proteins Collagen Peptide Powder is an Amazon bestseller for a reason. This unflavored powder offers up to 20 grams of collagen per serving and contains collagen sourced from grass-fed, pasture-raised cattle. The powder contains stimulating properties for the skin
hyaluronic acid, as well as vitamin C and can easily be mixed into coffee or smoothies.
2
Best Flavored Collagen Supplement
Vanilla Collagen Protein Powder by Ancient Nutrition
Ancient Nutrition's Vanilla Collagen Powder is a hit with users, but the brand offers a host of other fresh flavors, including Chocolate, Cold Brew, Strawberry Lemonade, and Cucumber Lime. . It contains hydrolyzed bovine collagen, which is easier for your body to absorb. This powder is also made with ingredients from non-GMO, grass-fed, and cruelty-free sources.
3
Best Unflavored Collagen Supplement
NutraCollagen Collagen Maximizer Plus
This collagen supplement uses instant collagen, so you don't have to deal with a weird aftertaste even with its unflavored version. It is also easy to mix, dissolving quickly. This non-GMO powder delivers 22 grams of collagen.
4
Best Cheap Collagen Supplement
Thrive Market Grass-Fed Collagen Peptides
Thrive Market sells many high-quality foods, supplements, snacks, and beauty products, including some under its own brand to keep costs down. The company's collagen peptide powder allows you to get non-GMO, grass-fed, and 100% pure hydrolyzed collagen at a low cost.
5
Best Marine Collagen Supplement
Indigo Marine Collagen Powder
Whether you're a pescatarian or just prefer to get your collagen from the sea, Indigo's Marine Collagen is a good choice. It comes from wild fish and contains hydrolyzed multi-collagen peptides. Enjoy 10 grams of collagen and zero sugar.
6
Best Vegan Collagen Supplement
Your Super Vegetable Collagen Powder
Since they are often made from animal sources, collagen powder can be tricky for vegans. Your Super's Plant-Based Collagen Powder is made with organic pea protein and tocotrienols (a nutrient similar to vitamin E) for a supplement everyone can enjoy. The powder is made without artificial sweeteners and has a delicious vanilla flavor.
seven
Best Grass-Fed Collagen Supplement
Garden of Life Blueberry Acai Grass-Fed Collagen
This Garden of Life Collagen Powder contains a host of additional ingredients to help support healthy skin, hair and nails, including French Melon and Astaxanthin. It also contains 500 million CFU of probiotics to support good gut health. Made from grass-fed bovine sources, this powder comes in a delicious blueberry acai flavor that tastes great in smoothies.
8
Best collagen supplement for beauty
Live Conscious Beyond Collagen Multi-Collagen Powder
Live Conscious Beyond Collagen powder contains biotin, an ingredient that can stimulate hair growth, along with 20 amino acids. It is non-GMO, dairy-free, shellfish-free, and gluten-free, making it compatible with most diets. And, since it's unflavored, you can mix it into smoothies, soups, coffee, and more.
9
Best Capsule Collagen Supplement
Vital Proteins Collagen Pills Supplement
Not everyone wants to deal with collagen powder. Vital Proteins produces supplements that offer up to 3,300 milligrams of collagen per serving. Each capsule contains hydrolyzed collagen made from non-GMO, grass-fed and pasture-raised sources.
ten
Best Keto-Friendly Collagen Supplement
Bulletproof Flavorless Collagen Protein Powder
Some collagen supplements may contain additives and sweeteners that are not good for a keto diet. Bulletproof's powder has no added sugar and 18 grams of protein for a serious nutritional punch. Because it's unflavored, you can add it to almost anything.
This content is created and maintained by a third party, and uploaded to this page to help users provide their email addresses. You may be able to find more information about this and similar content on piano.io